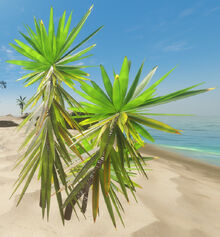 Yucca plants are a type of plant found in Stranded Deep. At least two or three yucca plants can be found growing on each island.
Yucca plants are a valuable source of material. Harvesting a yucca plant with any cutting tool (e.g. a pocket knife, a crude axe) will yield six Fibrous Leaves.
Once stripped of its resources, the plant will lose its leaves and begin regrowing them; this growth is able to be seen in real time and acts as an indicator of how close the plant is to maturing. During the regrowth process, players will not be able to harvest any fibrous leaves from the plant. Yucca plants normally take around a day or two to grow back into their original state.
Ad blocker interference detected!
Wikia is a free-to-use site that makes money from advertising. We have a modified experience for viewers using ad blockers

Wikia is not accessible if you've made further modifications. Remove the custom ad blocker rule(s) and the page will load as expected.