UFO (actually a flying one)
Has anyone encountered this phenomenon?
I have been out on the sea when i saw a big blurry circle in the sky at night and assumed it was the moon in the fog. But than i realized that i was rowing north and the circle bekame a more and more narrow ellipse the nearer i came.
This screenshot was taken when i had to look up to still see it, so it seems it was no more than 10 or so meters above the sea.
I had to look down to row again and when i looked back up it had vanished.
It seems to be a graphic bug. Its a "lens" of about 5 meters in diameter that is only visible from one side.
It is penetrable and travels slowly towards the water.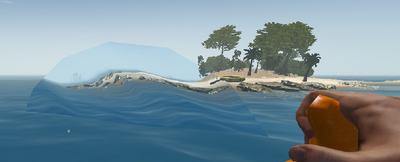 File history
Click on a date/time to view the file as it appeared at that time.
Ad blocker interference detected!
Wikia is a free-to-use site that makes money from advertising. We have a modified experience for viewers using ad blockers

Wikia is not accessible if you've made further modifications. Remove the custom ad blocker rule(s) and the page will load as expected.